Scratchings/Cancellations:  
Please go to our
Scratchings/Cancellations page
Capping
You may cap up to 2xs at our events per season.  After this point you must become a member to continue.  For more information please view our Rules and Regulations page.
General Event Rules: Medical armbands to be worn by all riders on the day.  Jackets, plaiting etc not required, casual wear ok, however please ensure suitable footwear and helmet. All hay and manure must be removed – please pick up after yourself.   Please visit our Rules and Guidelines page for more information
Banking Details:
National Bank  - 06 0254 0001134 00
(Please use references as outlined for the event)
Inhand And Ridden DAy
TIME:
starts 9.30am
INTERNET BANKING REFERENCE:
(first initial.surname) (INHAND)
PROGRAM:
WRC Inhand programme (final)
ENTER: 
CLICK HERE
INFO:
A fun day of in-hand classes (in the morning), followed by ridden and equitation-type classes (in the afternoon). There's no jumping involved.
Please note: Horses must be 3+ years. No yearlings/foals, and no stallions. Please do not bring dogs to the grounds.
This is a closed event (i.e WRC members only), subject to sufficient numbers. Each ring will be capped at 15 entries, on a first-in basis. We will split the rings based on colour, to be confirmed nearer the time.
NO plaiting. Jackets are not required, but you must ensure suitable footwear and helmet.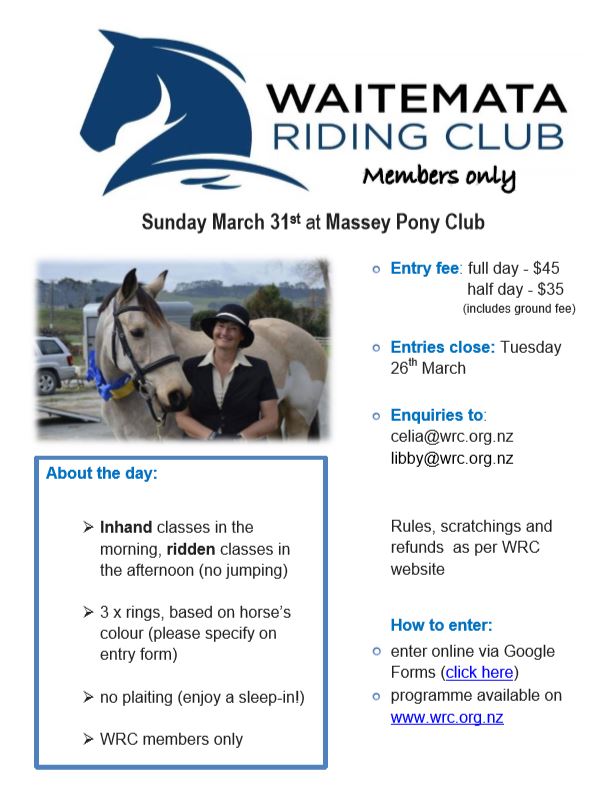 UPCOMING EVENTS
March
31 Inhand and Ridden Flat Day
April


TBC - XC clinic (Weather dependent)
TBC - Quiz Night
May
11th Dressage Day 3 - WHS
June


22nd Have a Go - Dressage Day 4 - WHS
IN THE PIPELINE
Show Jumping Day 2
Quiz Night
AGM